Hey all,
Lot's have happened since my last post.
1- I've finished my contract at Ubisoft. I still can't tell the name of the game I was working on, be be sure I'll let you know when it comes out!
2- The cryptopsy Album is almost finished!
3- My girlfriend's short movie "ZOVNI" is finished! I did the storyboards and some special fx for it. You can check out the cover here: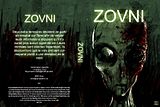 4- I'm going to new york for a couple of days... will write more when I come back!!!
seeyuh!